A few weeks ago, the question in the minds of most Leeds United fans were 'Will we win automatic promotion?' Three defeats in the last four games has transformed that question into another one : 'Can we get lucky through the playoffs?'
Amidst all the excitement that we could be a Premier League club next season, there lies a very different question in my mind. One which would make me look like a pessimist rather than an optimist. One which asks : 'Are we ready for Premier League?'
Let's not forget this is our first season in the Championship after a three year stay in League One. A new league usually takes time to perfect. Surprisingly the players who played for us last season have been our best players this season. Robert Snodgrass, Max Gradel, Jonny Howson, Luciano Becchio & Bradley Johnson have arguably been our best five outfield players this season. So if they did complete the transformation to the Championship so easily, what's the problem?
The problem lies behind him. One word - Defence. To say Simon Grayson isn't a big fan of defending would probably be an understatement in the present situation we find ourselves in. Make no mistake about it, Grayson is a very good manager but the fact that he has not been able to fix our defence the entire season irritates me.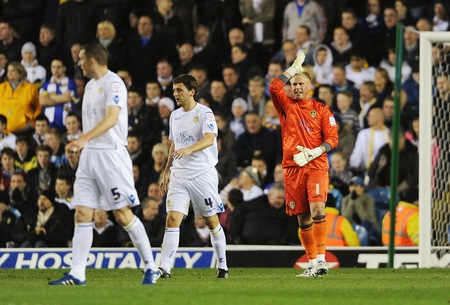 A familiar sight.
In spite of being sixth in the table at the present moment, we have the 4th worst defence in the league only after Scunthorpe United(77), Doncaster Rovers(72), Preston North End(70) and joint with Sheffield United having conceded 66 goals apiece. All the four teams that have been mentioned find themselves amongst the bottom five of the league.
Clearly, if our attack could make the transformation to the Premier League, I'm not sure our defence could. New players could come in but will Ken Bates spend reasonable money on players who can make the cut in the Premier League? I wouldn't bet on it.
Personally, I wouldn't complain if we went up. Hell NO!! But the last thing I want to see is Leeds United becoming a yo-yo club. So it wouldn't be such a bad thing after all if we don't win promotion this season as it would surely help us to build a more solid squad before eyeing the top league in the country.